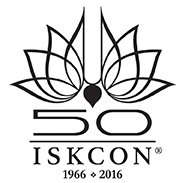 The International Society for Krishna Consciousness (ISKCON) is a branch of the monotheistic Gaudiya Vaishnava tradition within Hinduism dating back 5000 years to Lord Krishna Himself. ISKCON was established in the West in 1966 by His Divine Grace A.C. Bhaktivedanta Swami Prabhupada (Srila Prabhupada) and has since developed into a worldwide confederation of over 500 temples, centers, communities, schools, and restaurants with some 250,000 devotees. Visit ISKCON.org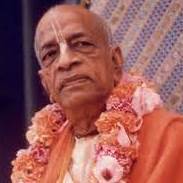 His Divine Grace A.C. Bhaktivedanta Swami Prabhupada (1896-1977) is widely regarded as the foremost Vedic scholar, translator, and teacher of the modern era. He is especially respected as the world's most prominent contemporary authority on bhakti-yoga, devotional service to the Supreme Person, Krishna, as taught by the ancient Vedic writings of India. He is the founder-acharya of the International Society for Krishna Consciousness. Visit Prabhupada.net
Jayapataka Swami, delivering lecture
and inspiring more than 5,000 devotees in Ukraine, at Bhakti Sangama Festival
31st August 2016
Radhastami Message from Jayapataka Swami
"She who worships the dust of Hari's lotus feet with billions of hearts!" – Sri Sri Radhikastottara Satanama Stotram.
This shows how dear Srimati Radharani is to Lord Krsna. Srila Prabhupada was saying how if Radharani tells Krsna, "This devotee is nice. Please deliver him" then Krsna will not hesitate. Here it says that Radharani offers billions of hearts of the devotees at the lotus feet of Krsna. She is the creator of Navadvipa Dhama. Krsna is Madanamohana. Radharani is Madanamohana-Mohini. More later…
Your well wisher always,
Jayapataka Swami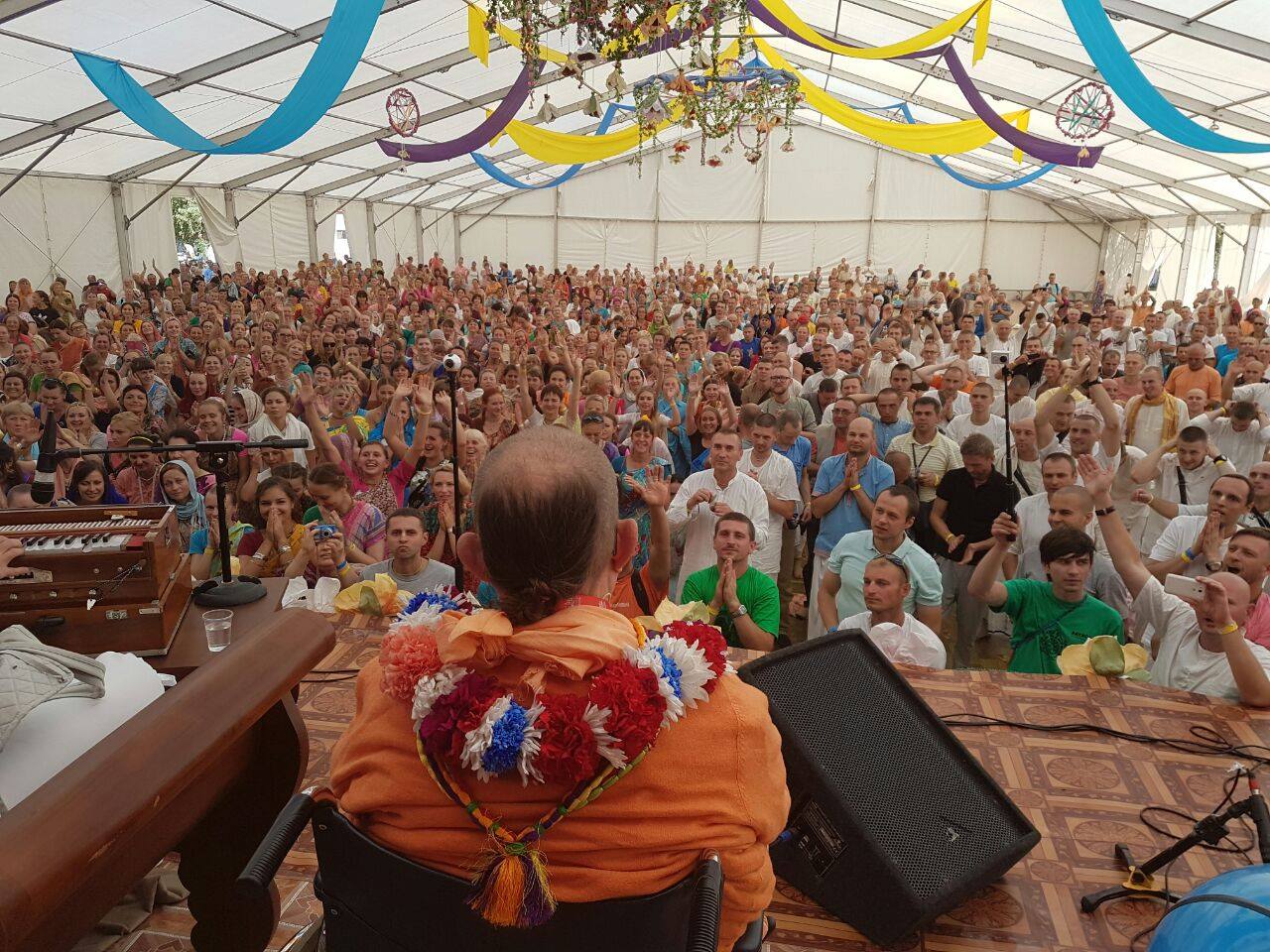 Janmastami Message from Jayapataka Swami
25 August 2016
My dear devotees,
Please accept best wishes and pranamas, as appropriate. All glories to His Divine Grace A.C. Bhaktivedanta Swami Srila Prabhupada.
All glories to Sri Krsna and His divine appearance on the sacred occasion of Janmastami. Lord Krsna is the greatest actor. His external reason for coming was to reclaim devotees from the material world, establish the religious principles, destroy demoniac elements, and protect His devotees. The confidential reason for His appearance was to manifest the Vraja Lila, to give devotees a chance to participate in the Vraja pastimes. Those who didn't participate in Lord Krsna's or Lord Caitanya's pastimes, His Divine Grace A.C. Bhaktivedanta Swami Prabhupada established ISKCON 50 years ago, to give everyone a chance to participate in Lord Caitanya's and Lord Krsna's pastimes. Celebrating on this auspicious Janmastami the 50 anniversary of ISKCON, I wish you all a very auspicious and happy Janmastami festival.
Your well wisher always,
Jayapataka Swami
Jayapataka Swami Guru Maharaja's Vyasa Puja offering to Srila Prabhupada
To: His Divine Grace A. C. Bhaktivedānta Swami Prabhupāda
nama oṁ viṣṇupādāya kṛṣṇa-preṣṭhāya bhū-tale śrīmate bhaktivedānta svāminn iti nāmine
namas te sārasvate deve gaura-vāṇī-pracāriṇe nirviśeṣa-śūnyavādī-pāścātya-deśa-tāriṇe
My dear spiritual father,
Lord Kṛṣṇa, Lord Caitanya, and various ācāryas have predicted your appearance and spreading of Lord Caitanya's message all over the world, directly, and through your assistants. I pray to you that I will always be able to assist you, and that those following me will also be inspired to assist you in spreading Lord Caitanya's transcendental vāṇī. I have composed this song in Bengali which highlights Nitāi-Gaura's disseminating Kṛṣṇa-prema and glorifies your role in doing the same, assisting Lord Caitanya, especially in the Western countries, and for that matter, all over the world. I hope this song will be useful in the daily spiritual ceremonies of the temples.
Your insignificant servant,
Jayapatākā Swami
সেনাপতিভক্ত জয় শ্রীলপ্রভুপাদ
Senāpati-bhakta, Jaya Śrīla Prabhupāda
By His Holiness Jayapatākā Swami
নিতাই গৌরাঙ্গ নিতাই গৌরাঙ্গ।
পতিত পাবন নিতাই গৌরাঙ্গ।।
nitāi gaurāṅga nitāi gaurāṅga patita pāvana nitāi gaurāṅga
Nitāi Gaurāṅga! Nitāi Gaurāṅga! Saviour of the fallen, Nitāi Gaurāṅga!
jaya prabhupāda jaya jaya prabhupāda jaya prabhupāda jaya śrīla prabhupāda II 1 II
All glories to Prabhupāda! All glories, all glories to Prabhupāda. All glories to Prabhupāda. All glories to Śrīla Prabhupāda
প্রতি যুগে ক্রমে ক্রমে অন্ধকার বাড়ে।
এই কলিতে নিতাই গৌর পতিত উদ্ধারে।।২।।
prati yuge krame krame andhakāra bāḍe ei kalite nitāi gaura patita uddhāre II 2 II
From age to age, darkness increases progressively. But in this Kali-yuga, Nitāi- Gaura deliver the fallen.
সত্য ত্রেতা দ্বাপরেতে অসুর নিধন।
এই কলিতে গৌর করে প্রেম বিতরণ।।৩।।
satya tretā dvāparete asura nidhana ei kalite gaura kare prema vitaraṇa II 3 II
In Satya-yuga, Tretā-yuga and Dvāpara-yuga, the Lord kills the demons. But in this Kali-yuga, Lord Gaura distributes freely Kṛṣṇa-prema.
রূপ মধুরিমা, হরিনাম, সদাচার।
গৌর মাত্র ভারত দেশে করিল প্রচার।।৪।।
rupa madhurimā, hari nāma, sadācāra gaura mātra bhāratadeśe karila pracāra II 4 II
His weapons were His extremely sweet unparalleled beauty and the congregational chanting of the holy names of Kṛṣṇa. His practice of the highest level of Vaiṣṇava behavior, etiquette and purity were His force. He only disseminated love of Kṛṣṇa in India.
দূর দেশে ভক্তিহীন জীবে উদ্ধারিতে।
সেনাপতি ভক্ত গৌর পাঠালো পাশ্চাত্যে।।৫।।
dūra deśe bhakti-hīna jīve uddhārite senāpati bhakta gaura pāṭhālo pāścātye II 5 II
In order to deliver the people devoid of Kṛṣṇa-bhakti in the far off remote countries, Lord Gaurāṅga sent a commander-in-chief devotee to the West.
ভক্তিবেদান্ত স্বামী শ্রীল প্রভুপাদ।
সেনাপতি ভক্ত জয় শ্রীল প্রভুপাদ।। ৬।।
bhaktivedānta svāmī śrīla prabhupāda senāpati bhakta jaya śrīla prabhupāda II 6 II
That commander-in-chief devotee (senāpati-bhakta) was His Divine Grace Abhayacaraṇāravinda Bhaktivedānta Swami Śrīla Prabhupāda. All glories to Śrīla Prabhupāda.
পৃথিবীতে আছে যত নগরাদি গ্রাম।
সর্বত্র প্রচারিত হইবে মোর নাম।।
ভবিষ্যৎ বাণী সাধু গুরু পুরাণে।
প্রভুপাদ রূপ দিলা বাস্তব প্রমাণে।।৭।।
pṛthivīte āche yata nagarādi grāma sarvatra pracārita haibe mora nāma
bhaviṣyat vaṇī sādhu guru purāṇe prabhupāda rupa dilā vāstava pramāṇe II 7 II
Lord Caitanya said, "My name will be preached in every town and village of whole world." Prabhupāda practically proved this and many other predictions made by the Purāṇas, saintly persons and the spiritual masters.
গুরুর আজ্ঞায় প্রভুপাদ গ্রন্থ প্রকাশিলা।
ভক্ত সবে কোটি কোটি গ্রন্থ বিতরিলা।।৮।।
guru ājñāya prabhupāda grantha prakāśilā bhakta sabe koṭi koṭi grantha vitarilā II 8 II
Prabhupāda wrote books on the order of his guru and the devotees have distributed those books in the hundreds of millions. Thus he established that books are the basis of the Kṛṣṇa consciousness movement.
খোল নৃত্য গীত সহ শ্রীনাম কীর্তন।
হরিকথা প্রসাদ সেবা অপূর্ব ঘটন।।৯।।
khola nṛtya gīta saha śrīnāma kīrtana hari-kathā prasāda sevā apūrva ghaṭana II 9 II
The topics of Lord Kṛṣṇa, Mahā-prasāda, devotional services, singing of Śrī Hari- nāma kīrtana accompanied by dancing with mṛdaṅgas, karatālas and other musical instruments took place wonderfully.
দেশে দেশে কৃপা শ্রদ্ধা শিক্ষা দীক্ষা দিল।
দিব্য জ্ঞান প্রচার শক্ত্যে ভকত বাড়িল।।১০।।
deśe deśe kṛpā śraddhā śikṣā dīkṣā dila divya jñāna pracāra śaktye bhakata bāḍila II 10 II
From country to country, all over the world, he bestowed mercy, instilled faith, gave instructions and initiations. Thus by his potent dissemination of transcendental knowledge, the numbers of devotees increased. Prabhupāda showed personally how to apply the principle of preaching is the essence.
মন্দিরে কীর্তন পূজা-উৎসব দেখি ত্রাণ।
গৃহে সেবা, নামহট্টাদি কৃষ্ণভক্তি দান।।১১।।
mandire kīrtana pūjā utsava dekhi' trāṇa gṛhe sevā nāma-haṭṭādi kṛṣṇa-bhakti-dāna II 11 II
By witnessing and participating in the temple kīrtana, ceremonies, worship and festivals the people were delivered. By practicing Kṛṣṇa consciousness in their houses, worshipping the Deities, having Nāma-haṭṭas and Bhakti-vṛkṣas, etc., and other congregational expansion programs, they got ever increasing Kṛṣṇa-bhakti and gave it to others. In this way, it went viral by applying the teaching of utility is the principle.
বিশ্বের নানা প্রান্ত হতে বৈষ্ণবগণ।
ভারতে অার্যভ্রাতায় করে আলিঙ্গন।।
'জয় গৌর' বলি নবদ্বীপ পরিক্রমা।
মস্তকে লেপন করে ধাম ধূলিকণা।।১২।।
viśvera nānā prānta hate vaiṣṇavagaṇa bhārate āryabhrātāya kare āliṅgana
'jaya gaura' bali navadvīpa parikramā mastake lepana kare dhāma dhūlikaṇā II 12 II
Vaiṣṇavas from all over the world come and circumambulate the Navadvīpa- dhāma. They take the dust of the holy dhāma on their heads and without any prejudice to caste, color, creed or nationality, they embrace their Indian brothers and chant "Jaya Gaura, Jaya Gaura, Jaya Śacī-nandana!" They achieve transcendental unity in diversity.
বিশ্ব চালক মন্ডলী করিলা গঠন।
মিলে মিশে সেবা করার নির্দেশ অর্পণ।।১৩।।
viśva cālaka maṇḍalī karilā gaṭhana mile miśe sevā karāra nirdeśa arpaṇa II 13 II
He formed the Governing Body Comission (GBC) as the ultimate managing authority for ISKCON and instructed everyone to serve cooperatively according to the GBC's direction.
প্রভুপাদ সঞ্চারিলা কৃষ্ণভাবনামৃত।
স্বর্ণযুগের জয়পতাকা হইল উত্তোলিত।।১৪।
prabhupāda sañcārilā kṛṣṇabhāvanāmṛta svarṇayugera jayapatākā haila uttolita II 14 II
Prabhupāda infused Kṛṣṇa consciousness throughout the world and thus the victory flag of the ten thousand year golden age was hoisted.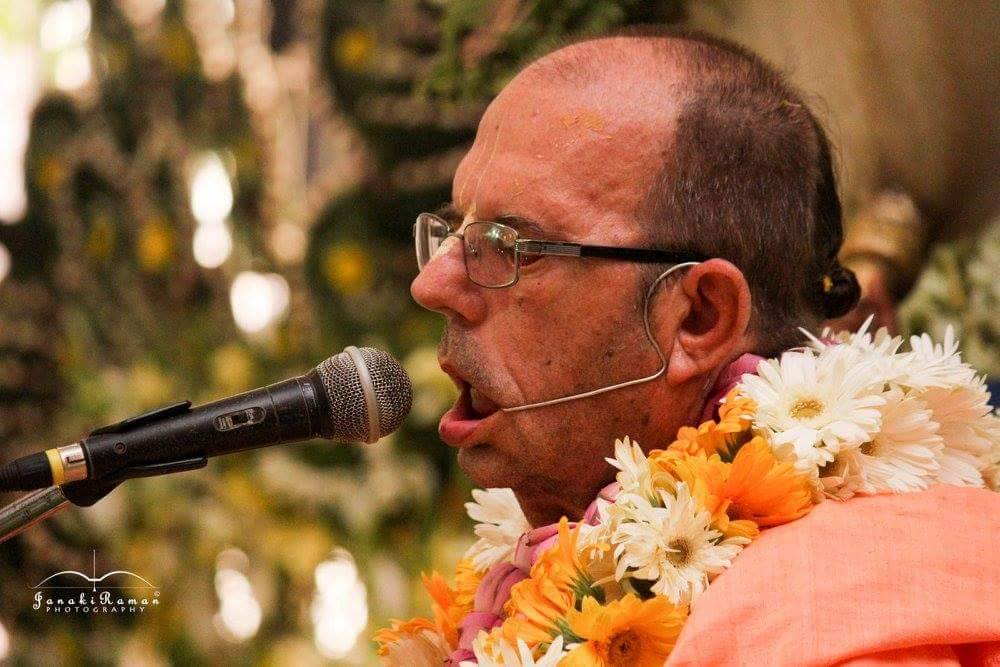 © Photograph by JanakiRaman Photography
An all-rounder
His Holiness Jayapataka Swami is famous worldwide as a travelling preacher. Recently, in just 2 years he did
Kilometres of road journey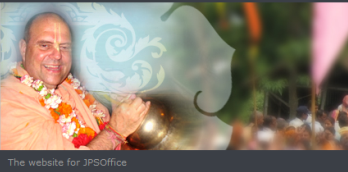 The official website for JPS Office. Here you can download various initiation forms, philosophical test papers, questionnaires and checklists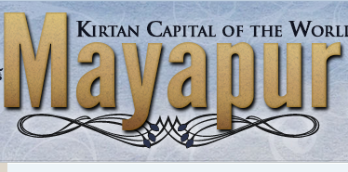 Visitors from around the world cherish the dream of visiting Sri Mayapur dham in order to become invigorated with the unlimited mercy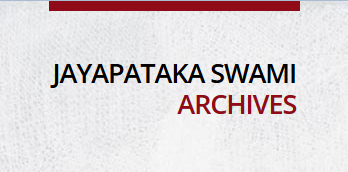 The Official Database of His Holiness Jayapataka Swami. You will find links to audio recordings of the classes as well as transcriptions.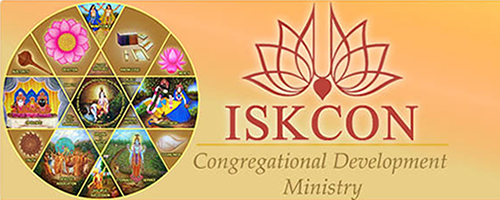 The Ministry actively collaborates with ISKCON affiliates worldwide to facilitate the spiritual growth of individuals and communities according to the teachings of Srila Prabhupada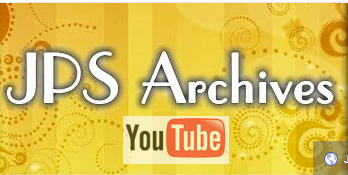 The official YouTube channel of JPS Archives. Here you can watch most popular video uploads as well as playlists.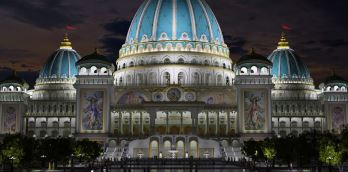 Srila Prabhupada's vision of a Vedic Planetarium, which would present the universe according to the Srimad Bhagavatam, the essence of all Vedic literature and Vedantic philosophy