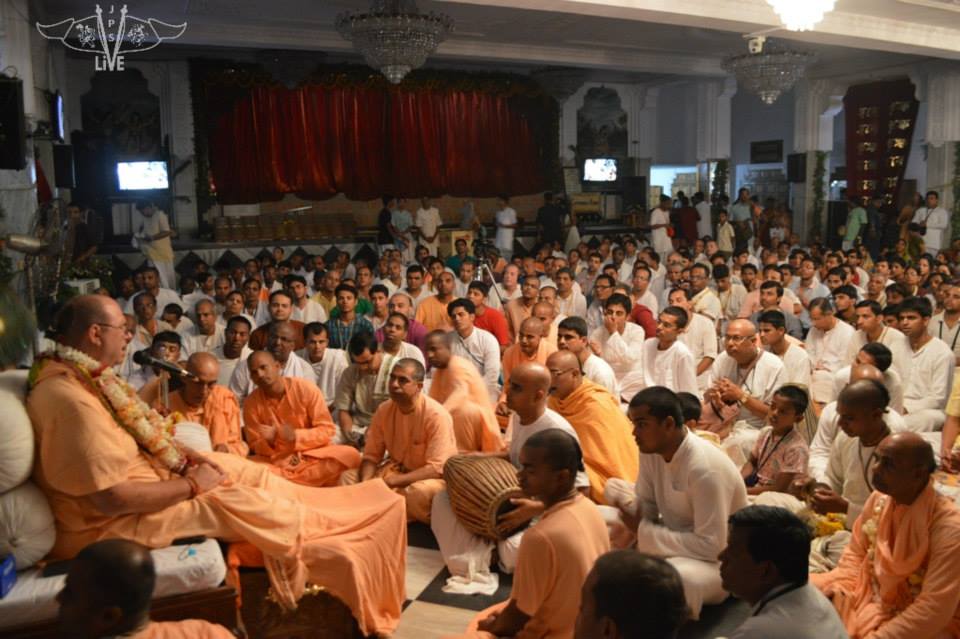 Question:
There is all this recent talk in the papers about scientists going to the moon. Srila Prabhupada has mentioned in the Bhagavatam that the moon is 100,000 yojanas, or 800,000 miles, above the rays of the sunshine, then how is it possible for humans to claim for having gone there?
Jayapataka Swami: Have you seen it? Were you there?
Devotee: No
Srila Guru Maharaja: We thought they said seeing is believing! If they go or don't go or did go, don't believe everything you read in the papers. What was the value of it? What was the benefit? 28000 billion dollars was spent on it? What was the benefit?
Well, the distances of the scientists are all hooked up. We are constructing a big model in Mayapur; the distances they are saying, it's a whole another discussion, but we are doing a lot of research according to the Bhagavatam. There are a lot of things the scientists don't publish. Just like we are trying to match up with the modern scientists' view, but we can't do it, because the modern scientists don't know what they are talking about. They cheat, they cheat like anything. Just like there is this society in Texas called 'All the phenomena that modern science can't explain'. And there they found that nothing ever bounces back when you send radio waves to two spots in space that are opposite each other. There should be a planet there, but they can't see it then. Things like that, they can't explain. And those two places match up exactly to rahu and ketu. But then they don't tell anybody that. They call it the black hole or they don't know, you know, they just make up some name and nobody knows what it is. There are all kinds of things like that. If they find something and it does not make sense with their theory, they just don't even tell anybody. Many Nobel prizes and Pulitzer prizes or whatever, they have to give them back when later on someone finds out they cheated. So it is very hard to match up. We tried to match up with their ideas, but we found it so frustrating, because you see one thing and you feel that they want to bend the truth. And later we find out some more information from some magazine or something that they found something else and they did not reveal it for five years or so. It is very hard.
So what we are going to do is we are going to present the Vedic cosmology, not caring anything for what their ideas are and showing actually how things are going, in such a unique way at our Mayapur temple and this is going to revolutionize the whole concept of astronomy.
I was just reading yesterday in newspapers of how Galileo was a debauchee and he just stole his disciple's information. Actually there were so many things, scandals about him, how he was cheating in certain things. But they have not figured out any other explanation for gravity. Actually there is not such a thing as gravity per se. There is another type of force, but not what they think is just a force of math. But these things are very technical and scientific and there are people who are working on this for the big Mayapur temple. Prabhupada wants that we put the whole universe within that temple.
Hare Krsna!
HH Jayapataka Swami
23 December 1983, New Orleans