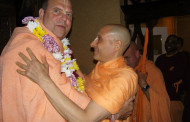 Dear HH Jayapataka Swami Maharaja,
Please accept my respectful obeisances. All glories to Srila Prabhupada.
I on this special and sacred day of your Vyasa Puja I wish to extend my sincerest gratitude to you. Your lifetime of devotional service, at times in most difficult situations is a tribute to your surrender and your love for Srila Prabhupada, Sri Chaitanya Mahaprabhu and the vaisnava community. It is a joy to see how your wisdom and compassion are uplifting people to Krishna all over the world.
I feel your encouragement upon me is Srila Prabhupada's priceless blessing.
Your are a great inspiration in my life.
With my sincerest gratitude and prayers for your good health,
Your servant,
Radhanath Swami