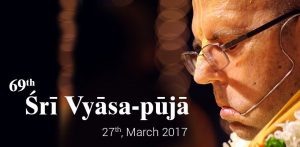 Dear God-brothers / God-sisters,
Hare Krishna! Please accept our humble obeisances. 
All Glories to Sri Sri Guru & Gauranga!
All Glories to Srila Prabhupada!
This year, the most blessed event "69th Sri Vyasa-puja" of our dear Guru Maharaja falls on 27th March 2018.
Please send your Vyasa Puja Homages. Devotees are requested either to submit their offerings by registering at www.vyasapuja.com or send it to info@vyasapuja.com by 10th March 2018 so that the offerings can be duly put up in the Vyasa-puja book and offered it to Guru Maharaja on the day of Vyasa-puja.
The following is the festival schedule:
*******************************
24 Mar 2018 – Arrival of Devotees.
25 Mar 2018 – Rama Navami, JSSS Meetings, Seminars.
26 Mar 2018 – Adivasa Ceremony
27 Mar 2018 – Kamada Ekadasi – Vyasa-puja day, Safari Dance and Culturals.
28 Mar 2018 – Dvadasi – Question and Answer Session, Vyasa-puja Feast, Seminars.
29 Mar 2018 – Trayodasi – Dham Darsana.
********************************
Its our Guru Maharaja's desire that disciples report the Vyasa-puja celebrations around the world, on the same day, so it can be read out to Him and made available on the website for everyone's inspiration and pleasure.
Submit your Vyasa-puja reports info@vyasapuja.com
Please follow these guidelines in writing the homages:
– Login and Submit your Homages online @ www.vyasapuja.com or send it to info@vyasapuja.com.
– Please do not Send your Homages to Guru Maharaja, or his Secretaries e-mail IDs or to any of the other conferences. (Sending it to Guru Maharaja's ID – will clog his mail box and he has to again forward it to us.)
– If you are sending your homages via e-mail: – In the homage Subject line please do not write your full address, tel no. etc. mention the Name of the person / s the homage is from, your Yatra, City & Country. Please mention (Siksa Disciple) or (Diksa disciple) or (Aspiring) or (Shelter) or Well-wisher) as the case maybe.
For ex: Gauranga Dasa (Diksa) Mayapur, India.
– Please send only one homage per mail.
– Please do not send your homages as attachments.
– Please don't type your homages in ALL CAPS.
– Please include a recent picture of yours as an attachment to your e-mail. (A picture of yours with Guru Maharaja – would be great!)
– If you want to add a report of any specific service that you are performing to Guru Maharaja, you may please do so.
– You can use Google IME for other languages.
If you are a local JSSS Co-ordinator, Area co-ordinator – Bhakti-vriksha Leader – kindly forward this message to everyone under your care or make an announcement of the same in the proper forum.
Homages received would be offered to Guru Maharaja and the same posted on the website www.vyasapuja.com for everyone's pleasure.
Hope this finds you in the best of health and bliss.
Thanking you.
Yours in service,
JPS ARCHIVES
www.vyasapuja.com